Now I know a lot of you are thinking, "I am doing good to get up and go out to buy groceries and do daily tasks, but the call to action from Support Hose Store may be a little more fun than donning your tennis shoes for a walk or run around the block. This is the time of the year when the weather across the country is practically begging you to spend as much time outdoors as possible. How about going out for a morning bird watch? The birds are so beautiful that you forget about the exercise you are getting. Or plan a day at the creek with a friend fly fishing. Just imagine the thrill of a trout hitting your fishing line.
Physical therapists are using the Nintendo Wii gaming system for rehab therapy for stroke victims, patients with Parkinson's disease, Multiple Sclerosis as well as victims of car accidents. Can you imagine a wheel chair bound patient being able to ski down the mountain, drive a golf ball down the green or take on an energetic game of tennis. Well, now they can with a game that is now enjoyed by young and old alike. No matter what your age is, exercise can strengthen your heart and your bones. Physical activity raises energy levels and sharpens concentration. Exercise also brings down your stress level.
It seems a coincidence that May is National Bike Month. National Bike Month is a month-long event when people are encouraged to get off their couches, from behind the wheels of their cars and off the subway and onto a couple of rubber tires to enjoy the thrill and enjoyment of being out of doors. With such beautiful weather, bike as often as you can during the month (and hopefully longer). Your ride does not have to be a race, but 30 minutes spent "crusin'" around the neighborhood can strengthen your heart. Rod and I just purchased two "Cruisers" and are looking forward to some nice rides through the neighborhood and parks.
May is also National Osteoporosis Awareness and Prevention Month. Estimates indicate as many as 50 percent of Americans older than 50 will be at risk for osteoporosis fractures during their lifetimes. Osteoporosis is often called the "silent disease" because bone loss occurs without symptoms, but early diagnosis and treatment can reduce or prevent fractures from occurring. One of the best ways to prevent Osteoporosis is with weight bearing exercise such as walking.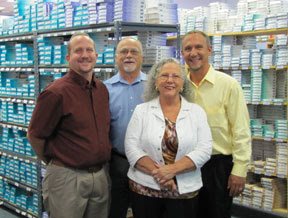 Just remember when you are becoming more active, you need to continue wearing your support socks or support stockings. As for me I will be wearing my Mediven Sheer and Soft or Mediven Comfort and Rod will probably be wearing the Sigvais 230 Cotton. For us they are great choices because we are short. Many other folks prefer the Jobst forMen Ambition, Sigvaris Athletic Recovery, Medi Comfort, or Juzo Silver Sole Whatever your favorite support sock or stocking, be sure you have it on!
Hope you enjoy Spring!
Vanda
Thanks for shopping SupportHosestore.com
Filed under: Compression Stockings |